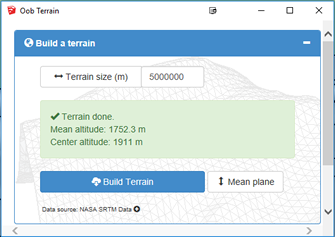 Easy
Set the desired terrain size and click on the build button, that's it!

Analyze the terrain
Get the mean altitude horizontal plane, mean tilted plane in one click.
New Create interpolated terrains.

*Terrain data sources
Oob terrain uses:
NASA SRTM 1-arc-second data version 3
or
New Google Elevation data
NASA Jet Propulsion Laboratory (JPL), 2013, NASA Shuttle Radar Topography Mission United States 1 arc second. Version 3.
NASA EOSDIS Land Processes DAAC, USGS Earth Resources Observation and Science (EROS) Center, Sioux Falls, South Dakota.
https://lpdaac.usgs.gov/ https://e4ftl01.cr.usgs.gov/SRTM/

Googe elevation data
Data coverage and limitations:
NASA SRTM data: SRTM successfully collected radar data over 80% of the Earth's land surface between 60° north and 56° south latitude.
Google elevation data: Google API requests are subjected to daily quota. This may results to terrain temporary unavailibity.
---
2 500 km² (1000 square miles) terrain
... created in seconds with Oob terrain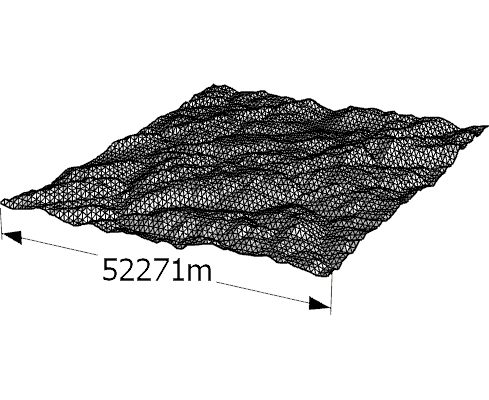 ---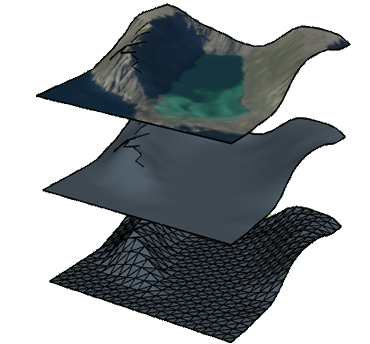 Create material from GoogleMap.
And combine it with SketchUp styles: smoothed, transparent, shadows ...
---
Still not convinced? Try it ...
More examples and tutorials on YouTube
Download plugin (rbz file) and install it in SketchUp: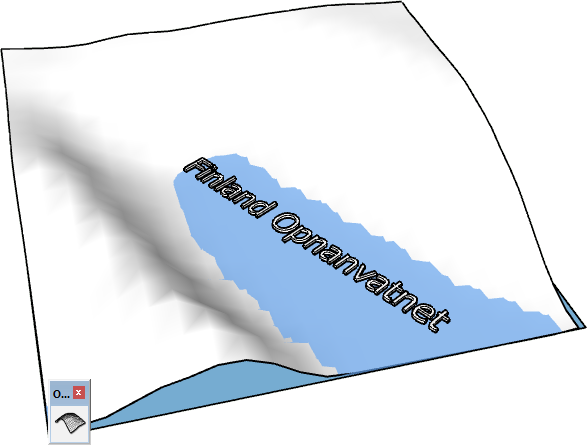 ---
Version
Feature description
1.0.0
Initial version
1.1.0
Mean altitude plane
1.2.0
Mean titled plane
1.3.0
Interpolated terrains (between original elevation and mean tilted plane)
2.1.0
New elevation data source: Google maps elevation
2.2.0
New: Google maps texture
2.4.0

Beta

Hi resolution terrains